I remember it like yesterday…
January 20, 2009.
As I watched the newly elected Barack Obama be sworn in as our 44th president and watched him give his inaugural speech, I was struck with a fantastic leadership skills epiphany.
I realized why I'm not more successful:
Too many people like me.
Related: What is Leadership? 10 Bold Rules for Exceptional Leaders
Leadership Skill #1 – Take a Bold Stance, and Don't Waiver
Candidly, I don't like it when, let's just say, one out of a hundred people listen to my keynote talk, subscribe to my daily mentoring, or read my tweets, and don't like me or what I said.
But that's my problem:
Not enough people disagree with me.
Not enough people dislike me.
Barack Obama achieved arguably the highest position any human can achieve, President of the United States of America, making him (arguably of course) the most powerful human being on the planet.
And yet if you'll recall, about half the people in his own country disagreed with him and disliked him—some passionately.
Here is our lack of popularity comparison:
Obama=50%
Me=less than 1%
Obama=Elected President of the U.S.A.
Me=Not.
The leadership skills epiphany is this:
The higher you climb on the ladder of success, the more people will dislike you.
Climb high enough and people might dislike you passionately, maybe even hate you.
Let that be okay…
Consequentially, if you are not as high on the ladder as you want to be, it might be because you are too worried about people disliking you.
This is keeping you from really challenging ideas, stirring up the status quos and leading a life by your own definition, regardless of the cultural or societal memes or expectations that surround you.
My new goal after having this epiphany:
Piss more people off!
Note: I do get pretty edgy in my free Daily Mentoring videos.  Join me here, along with 350,000+ high achievers, and get your butt whipped into shape daily (for FREE). 20 Burpees for anyone who doesn't sign up!!
Leadership Skill #2 – Cast a Clear Vision
Here's a scary thought.
Sometimes the best company DOES NOT win
Sometimes the best product doesn't win
Sometimes the best candidate in an election doesn't win
In every election, it seems any given candidate will have the favor of half the country and disapproval of the other half, just by stating his/her party affiliation.
What pushes the candidate over that 50% threshold and gets him/her elected?
The answer might surprise you.
It usually doesn't come down to qualifications, experience, or even their stance on social issues, the economy or the military. 
… and no one cares about their 150 step plan for America either!
It usually comes down to one thing.
Marketing.
Who can describe their vision for America the fastest and easiest?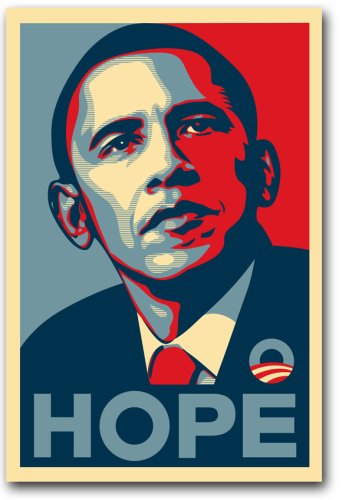 Obama's Vision:
How did Obama beat out Hillary Clinton for the Democratic nomination, even though by many standards, Clinton was more qualified?
Hope.
Obama offered a vision of hope.  (I'll show you Clinton's vision in a minute and you'll see why she lost.)
That's not a political statement saying I favored one over the other.
Obama just chose a better marketing team.  And like it or not, that's an important leadership skill – hiring A players.
"Hope" Image Credit: Shepard Fairey
Visionary Leadership – An Essential Skill in Business
Vision is also essential for your business messaging.
Don't focus on yourself or your products in your marketing collateral.  Focus on where your customer wants to go.  What's a successful outcome of using your product or service?
Watch how Nike does it.  This isn't a commercial about shoes.  It's a message of vision about what those shoes can do for you.